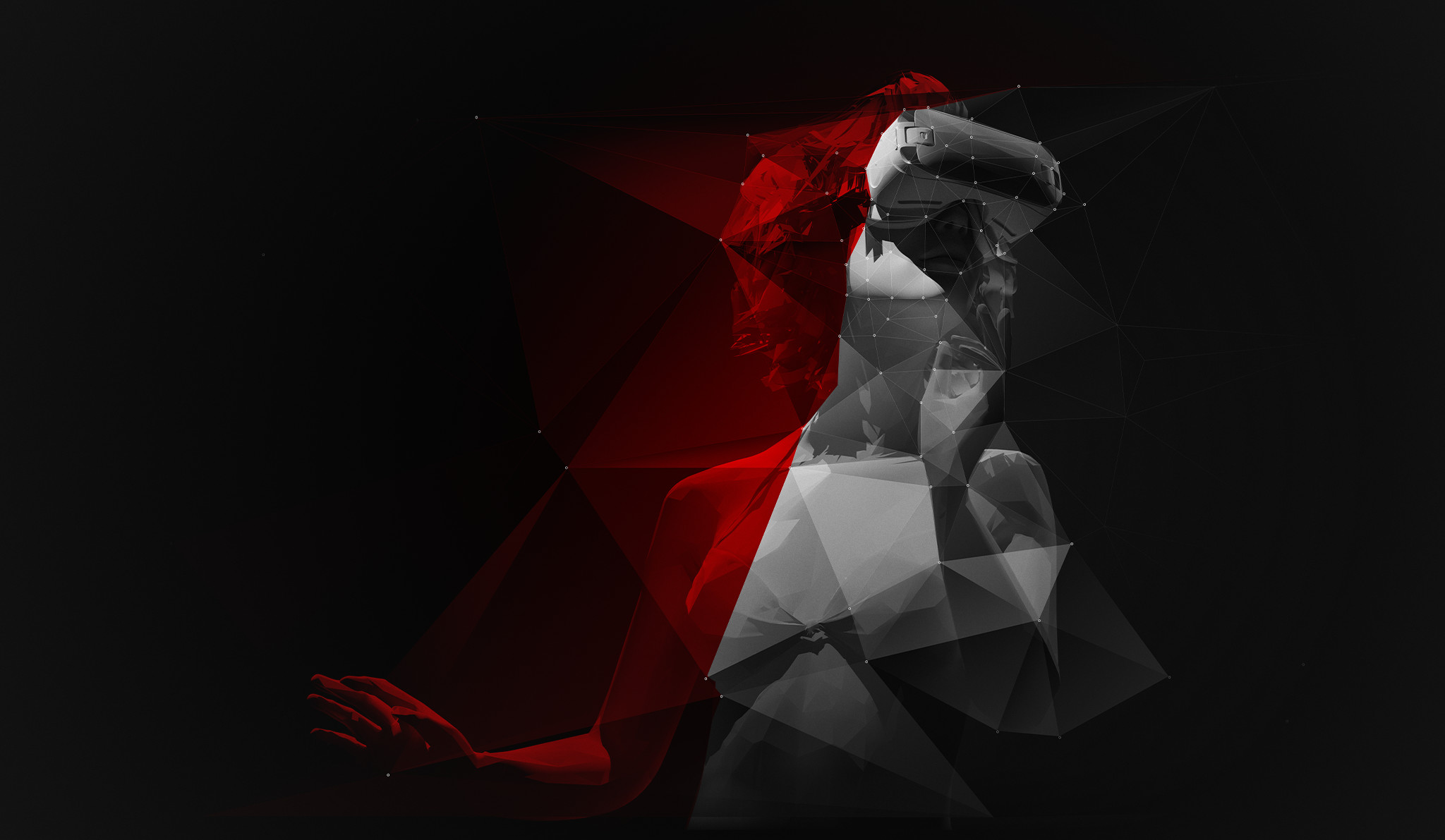 Virtual Reality is the technology that companies should not miss
Print, photo, radio, TV and the web are all two-dimensional media – Virtual reality is different! VR can teleport and catapult one into an alternative reality. The visitor plunges completely, immersively into this imagined world. VR also means that you can interact with this world and move freely.
Sci-Fi fans and trekkies have been waiting for more than 50 years for the technology that makes the holodeck reality. For all those who have not yet experienced it, it sounds like nerd toys – everyone who experienced it for the first time hardly gets their mouth shut and ideas start to bubble.
The ones who wait for the VR killer app are going to miss the opportunity!
Achieving an economic advantage with VR is a piece of cake. Areas of application are various and can help any company.
Gartner's Hype Cycle places virtual reality on the road to productivity. Workflows become copyable, new office rooms are available, business trips are unnecessary – everything with minimal effort, but with the best possible results – and that's exactly where we started! Figuring out solutions that bring competitive advantages and save money for companies.
think.box
Where will VR change the world?
Entertainment
A new kind of games that are tailored to VR and produce maximum immersion.
The decayed charm of casinos will be revived by VRcades.
You are the hero! New formats that will make it into the memory of the audience.
The front row seat in the stadium, join the team in the locker room, just be closer to the action. In e-sports, you can slip into the role of a player.
In addition to the real events, a VR recording and transmission will take place. Imagine you could experience the fall of the Berlin Wall yourself, and that from a media library.
Being there is everything. Get carried away by the audience's energy. Be close to the stars. Just go rock out in the lunch break.
There is no medium more intimate to feel the closeness and to slip into other roles.
Adventure
Short vacation from the living room. 15 minutes at the beach in Maui, the jungle in Australia or Africa's safari. Just switch off and be somewhere else.
Dare! Skydiving, bungee jumping, ski-jumping, swimming with sharks, a bit of roofing … glasses on and dive.
Whether you want to experience this historic event yourself or just want to go to the dark side of the moon.
Witness a historic event, see your city 100 years ago, picnic with dinosaurs.
Contemplate masterpieces in museums, admire ancient masters' buildings, visit the Wonders of the World…
Learning and training
Whether piloting, driving license or simply reinventig the school system.
Assembly and operating instructions, simulate functions – familiarize customers with their product.
Introduce your new product to all your dealers, while explaining all the functions and marketing communication.
Check on- or off-site whether all employees are still able to master and apply all safety-relevant work steps.
Experience the cruelty of the past, see live dinosaurs and learn about this era. Build whole houses in your art class…
Train surgery, work with hazardous substances.
Learning motion sequences
Train motion sequences, for example the perfect throw-in, penalty kick or dribble.
Design & Engineering
Model objects directly in 3D with more intuitive tools than any CAD / DCC workstation.
Design objects, impose a functional layer and play around with it.
Architectural inspections
Visiting and experiencing a sense of space. Reconstruction with direct result. Shortens the iteration times immensely.
.
Design reviews spatially, collaboratively and quickly.
Be instantly close to the finished product within the visualization phase.
Experience live and judge mechanics from a different angle, even in a different size.
Sales & Retail
Configurations, packaging and individualization of products e.g. painting your car.
Minimizing exhibition space to Pop Up and Street Promotion.
Sell ​​a product before it is fully developed and as if you were in the store to try out
Health
Motion sequences specifically for a particular effect e.g. get rid of back pain caused by office work.
Alleviate Post Traumatic Stress Disorder
Treatment of phobias – whether narrow spaces or spiders, in the virtual world treatment steps can be designed freely.
Optimize workplaces for ideal ergonomics.
Relaxation exercises – whether autogenic training or meditation / yoga / hypnosis.
Remobilization of paralysis
Still sounds very theoretical, but research is being conducted.  Bassically relearn the movement of paralyzed body parts through visual stimuli.
Advertising / Marketing
From spamming with redundant content to messages that deliver value! To customers' dream brand experiences.
From wrestling gummy bears to problem-solving-oriented games. Gamification offers versatile possibilities for staff activation.
Virtual inspections, product variants, eye tracking is just the beginning.
Through handy VR systems, shopping streets can become a true experience.
The company as a city in which all business areas can be experienced.
E-commerce 2.0. Because VR is simply almost like the real thing.
Working worlds of the future
Move freely in the world of numbers, interact and read four-dimensionally.
Working together worldwide, as in an office, even with a virtual coffee break lounge.
In VR you can bring the whole world to one place
Who needs big headquarters, if he can have everything virtual? Project teams, freelance and part-time.
Already have a specific project in mind?